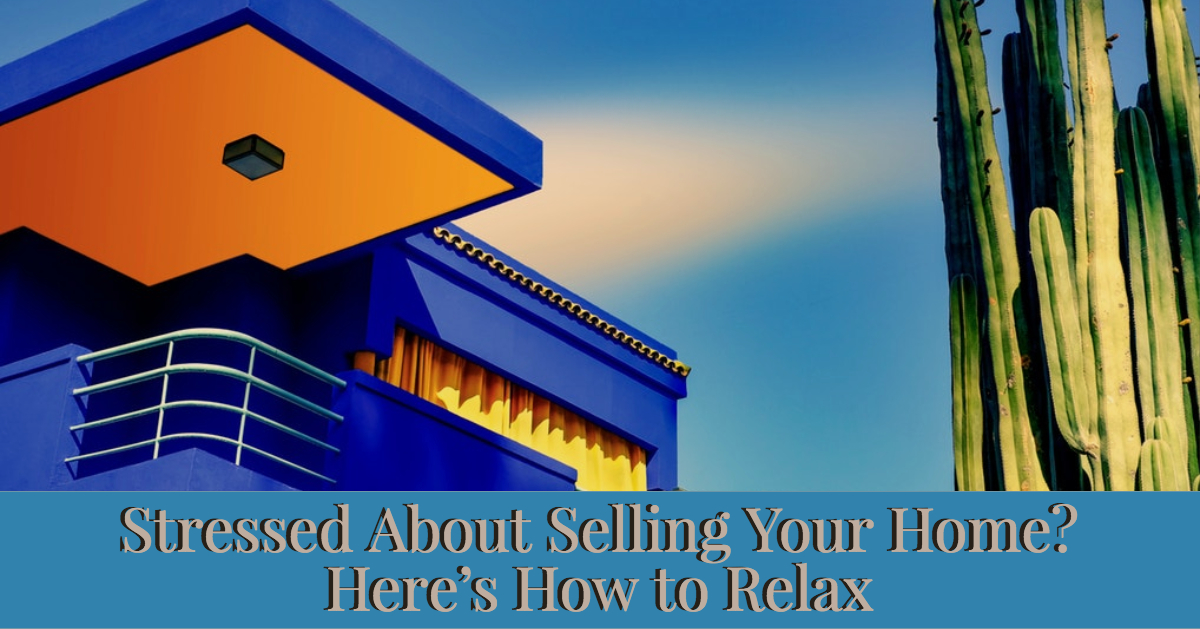 It might seem like renting is an easy way to avoid the stress of ever buying or selling a home in Phoenix. Saving up for a down payment, taking out a loan, the responsibility of upkeep and the difficulty of moving are all pretty big steps and pretty long processes to get through.
But of all the steps, selling your home is probably the most stressful. Whether you're moving for a job, looking to upgrade the size of your home or just interested in switching locations - the readiness to seal the deal and move on with your life hits hard.
The good news is, now is the time to get ahead of your sale and prepare so you can minimize stress and start focusing on the positives.
Focus on the Goal
Moving isn't easy, so you must have a good reason for doing so. Focusing on your personal reasoning will give you guidance through the process and something to hold onto when the stress starts to build. Thinking through your reasoning will also help you build confidence that this is the right decision for you and help keep doubt at bay.
Downsizing and minimizing, upgrading and growing or pursuing a new professional path are all great reasons to say yes to this big decision. Identify and focus on your goals and give them the chance to see you through to the other side.
Get Ahead on Your Research
Research is the most important step in any big decision. It's the part where you think through the possibilities, the resources you have access to, who your competition is, what your setbacks could be and ask yourself one million questions to get to the right spot, the spot where you can succeed.
Sit down with people you know have done this before and ask questions. Google away and find answers. What have other people in your situation learned from their experiences? What did they wish they knew? We have endless access to information, so spend some time making good use of it.
You'll also relax more if you do research on the place you're headed. Whether it's a brand-new city or just a home in a different neighborhood, make sure you look into your new surroundings. This way, the stress of moving doesn't add the stress you're already feeling about selling. Look into things like nearby schools, neighborhood demographics, and commute times. If your new home is far from work or school, maybe you should look into a car that will allow for carpooling.
Remind yourself that bright beginnings are ahead and that while your home might be different, everything else is coming with you. Many people forget that it's not the walls in a home that are important, it's the objects and people inside of them. Chances are, your family, furniture, photos, and your car are coming with you in this busy time.
Hire a Realtor
If you really want to free yourself from a big chunk of stress, be sure to hire a realtor. While now is still a good time for the housing market, your realtor can give you valuable advice and help you address all the factors that come with selling a home.
In order to select a good realtor, you'll need to rely on solid research. You want to look for someone with a good track record of selling homes similar in size, location and value to yours. Referrals are great, but most of us know a realtor or two and not all of them can help sell the kind of home you're trying to sell. If your dog sitter's brother's friend's cousin has experience selling $500,000 homes in the suburbs, but you're looking to sell a $200,000 condo in the city, they might not be the best fit for your situation and it would be wise to politely decline their offer to help.
There are plenty of realtors who are happy to sweet talk their way into the deal. Educating yourself on what you can reasonably expect before setting meetings can give you an idea of who is going to be most effective and most realistic and will give you the gusto to ask them to back their statements up, especially when they sound a little outlandish.
Think Through the Facts
Here are the facts. Today's homebuyers are well-informed, operating on a budget and extremely prepared to get the best deal possible. They are prepared to pick everything apart and figure out the reasoning behind your pricing - and they're certainly not afraid to negotiate. The sooner you can face these facts, the less likely you are to be smacked with reality and stressed later down the road.
With such extensive access to so much information, you are able to be just as informed, just as ahead of the game just as prepared as the buyers on the other side. Research as if you are a prospective buyer to get an idea of who your competition is and why they could succeed over you.
No Time Like the Present
Now is a great time to sell your home. The housing market in Phoenix is doing great and word has traveled around that Phoenix is a great place to live for many reasons: public school systems, things to do in the area, the job market… All of these factors and many more make Phoenix an appealing place to live, meaning many out-of-towners are looking for a home just like yours.
One of many reasons Phoenix is such a hot spot right now is due to the city's new-found focus on health and wellness. If you love warm weather, the southwest is a great option for you. If you prioritize your health, this city will align with your values. That said, there's definitely not an absence of recipes and Mexican restaurants that have made their way to this lucky area.
Phoenix, luckily, has gotten with the program and offers a variety of opportunities to explore your healthy side. The wide range of healthy food and drink options and family-friendly activities will be great selling points when your home is on the market.
---
Transitions in life are never easy but with preparation and focus on where you want to be, you can keep your stress levels down and your enthusiasm high.