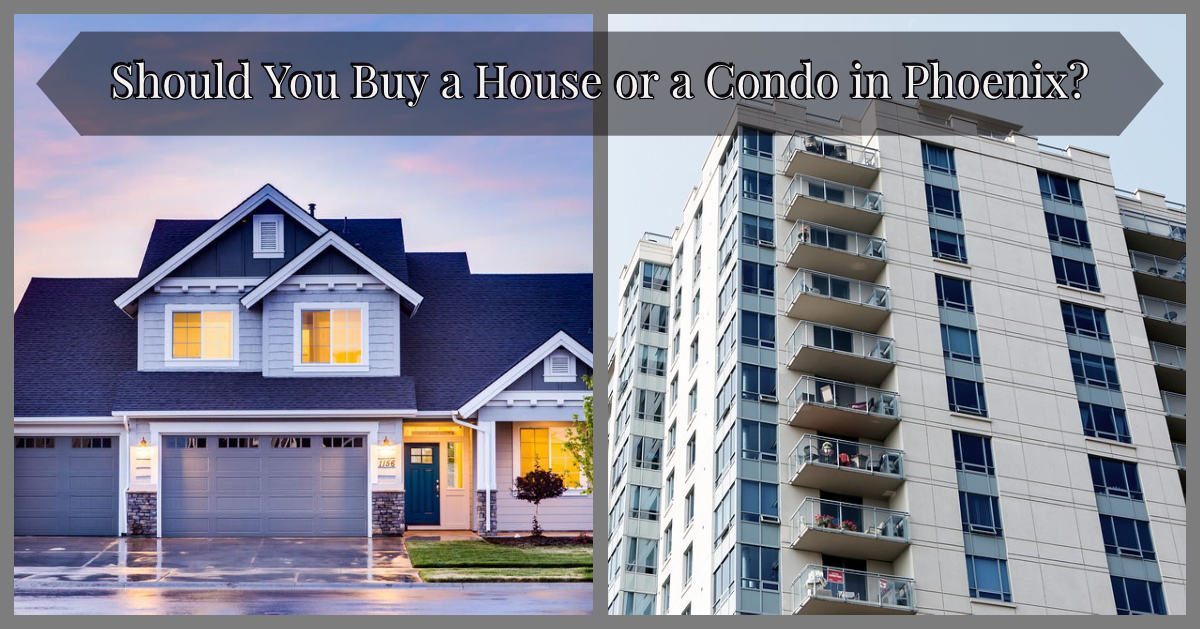 Phoenix Real estate has been on the rise for most of 2018. Experts project that 2019 will also be a hot year for homes for sale in Phoenix. This is partially due to the overwhelmingly beautiful weather, and partially due to cheap houses for sale in Phoenix. If you've already decided that you're going to start looking for property in Phoenix, the question needs to be asked, should you buy a condo or house in Phoenix? Here are a few things to consider when buying a home in the Valley.
Long-term vs. Short-Term
If you've just graduated college and are looking for a place perfect for a first-time homebuyer, you might be leaning towards a short-term living situation. If this is the case, it's a great idea to look into move-in ready condos in the most highly desirable areas. This includes condos in Central Scottsdale, Tempe, and certain parts of Phoenix. In general, real estate in desirable areas of Phoenix will sell significantly faster in the less renowned locations.
If you're on the hunt for a long-term real estate purchase, your options are endless. Ideally, you should look into single-family homes that are right on the edge of a developing area. In Phoenix, this might include homes for sale in South Scottsdale or Downtown Phoenix. These areas are expanding quickly and are surrounded by high-end, luxury homes. These home values will continue to creep their way outward as the population of Phoenix grows.
Family Growth Potential
Families are moving to the Valley more and more every day. Areas that were once popular retirement areas, like Youngtown, are now thriving communities for young adults and families. Whether you're already settled in Phoenix or looking for a home to settle down and start a family, it's important to consider the size of a new home.
Without kids or pets, a condo in Phoenix might be the perfect home for years to come. On the other hand, if you have dogs and baby fever, you might want to invest in a home with plenty of indoor and outdoor space. An extra room can act as an office until a nursery is needed and a backyard is a lifesaver when pets or children need to run out some energy.
Location, Location, Location
We can't stress this issue enough. Whether you are looking to buy a condo or a house in Phoenix, it's vitally important to consider the location. If you're moving to Scottsdale, you should consider that your budget won't stretch as far as moving to East Mesa. If access to the Old Town area, Scottsdale schools, or any other amenities in the area are important, you might have to compromise less space.
That said, if you're looking for more space and new build homes, heading to the Phoenix suburbs like Mesa, Gilbert or North Phoenix might be a good idea. You'll get more bang for your buck in these neighborhoods!
Overall Budget
Speaking of "bang for your buck", your overall budget will be a major factor when you're deciding the type of property to buy in Phoenix. In general, single-family homes are more expensive than condos. That said, real estate in Phoenix varies greatly depending on location. If you're not set on a certain area, the right real estate agent can help you find your dream home.
Maintenance Costs
The cost of maintaining a home greatly outnumbers that of maintaining a condo or townhome. This is primarily due to the fact that when you purchase a home, you own everything from the foundation to the roof. If something goes wrong, it's entirely your financial responsibility to repair it.
Over time, it's inevitable that your home will need some major repairs. A roof needs to be replaced every 20-30 years, depending on the type of material and weather wear-and-tear. Exterior paint and siding are also a major financial burden that you will likely face if you own a home for a significant amount of time.
A condo or townhome, on the other hand, doesn't face quite so many heavy repairs. Most of the time, building owners and property managers are responsible for the upkeep of the roof, exterior walls, etc. That said, you still might have to replace the water heater, major appliances, and even the windows over time.
Financing
If you're not planning on staying in Phoenix for an extended period of time you might wonder what the resale value of your property is. Even further, you might wonder what your financing options are. Purchasing property – whether it's a house or a condo – is a great investment. Either one will gain resale value in a good market if you take care of it and keep up with modern home trends.
That said, financing is different for condos versus houses. Mortgage rates are generally higher than what you'd pay for a house in the same circumstances. It's also important to consider that most condos won't allow for an FHA loan. If these types of variables are important to you, you might want to stick with a single-family home search in Phoenix.
Outdoor Space
If backyard space is important to you, read no further and purchase yourself a lovely home. Most condos don't share the same outdoor luxuries that a single-family home boasts.
If large outdoor living space isn't a major priority, you can certainly find plenty of condos in Phoenix with large patios. Because of the year-round beautiful weather in Phoenix, outdoor space is a common addition to most properties. Whether it's a walkout patio, a smaller deck or a large porch, you'll likely have space to get some fresh air.
Home Owner's Association Fees
If you're completely against paying an association for neighborhood management, then search carefully for a home in an HOA-free neighborhood. Most planned neighborhoods, condominium complexes, and townhomes have some sort of Home Owner's Association fee associated with it.
These fees cover the cost of maintenance for any common areas, like community gyms, pools, tennis courts, etc. In a condo complex, the fee will likely also take care of landscaping and major building maintenance.
HOAs often have rules and regulations put in place too. These rules can prevent you from painting your property a certain color or even decorating a certain way. If having the freedom to do whatever you wish with the property you buy is important to you, you should probably turn your search towards a house rather than a condo.
Remodeling and Updates
On the note of rules and regulations, there are also restrictions put in place for remodels and updates in condos and townhomes. While it might sound appealing to purchase property to flip it, you might run into some trouble doing so in a condo. Some condos require approval before any major interior changes are made.
If an open-concept or custom designed living space is a priority, you might consider buying a home in Phoenix. Houses allow homeowners the freedom to design and redesign as they wish.
Next-door vs. Next-wall Neighbors
Under most circumstances, a home usually allows residents far more privacy than a condo. You're sharing nothing but maybe a backyard wall with your next-door neighbors when you own a home. Sharing indoor walls might not affect you much if your neighbors are great, but you might want to do some digging before you commit to a new condo.
Another aspect to consider before buying a condo is which floor you'd like to be on, if applicable. While being on the first-floor grants you easy access and a potentially larger outdoor living space, you might also face noisy neighbors upstairs. When you're living wall-to-wall or floor-to-ceiling, it's inevitable that some noise will transfer between units.
Amenities
Most condominium complexes come with a long list of amenities. Pools, gyms, dog parks, and common areas are just a few of the perks of condo-living. The other upside to enjoying these amenities in a condo complex is that you don't have to care for them.
Some neighborhoods have community centers fit with all the same amenities that condominium complexes boast. You might consider searching for homes in private golf club communities in the area.
"Lock-and-Leave"
Before you decide to purchase a certain type of property in Phoenix, it's important to consider the type of lifestyle you enjoy living. If you're frequently traveling, having a "lock-and-leave" or "turn-key" property might suit you well. This type of lifestyle is certainly most attainable in a condo. Phoenix is also a popular hotspot for "snowbirds", who come south for the winter from places like Colorado and even Canada. While having a beautiful home in Phoenix might sound appealing, it's tough to maintain for 6 months of the year while you live hundreds of miles away.
On the other hand, if you plan to start a family, or are ready to take on tasks like gardening, pool maintenance, etc., you might be ready to invest in a home. While there are definitely more projects involved in home ownership, there is a lot of pride as well. Caring for a home is a special experience and it's something everyone should do.
Now, you might be thinking, "I'm still unsure, should I just rent?". In any other housing market, the answer to that question might be debatable. However, the Phoenix housing market is not friendly to renters. The average rent is often double what the average mortgage would cost. Not to mention, the most desirable areas have rentals priced far beyond the space granted. In other words, you don't get what you pay for when you rent in Phoenix.
Ultimately, whether you decide to buy a condo or a house in Phoenix, you won't be disappointed. It's a big decision, but with the help of an experienced team, the process is fun! Contact Messner Homes today for more information on Phoenix Real Estate.