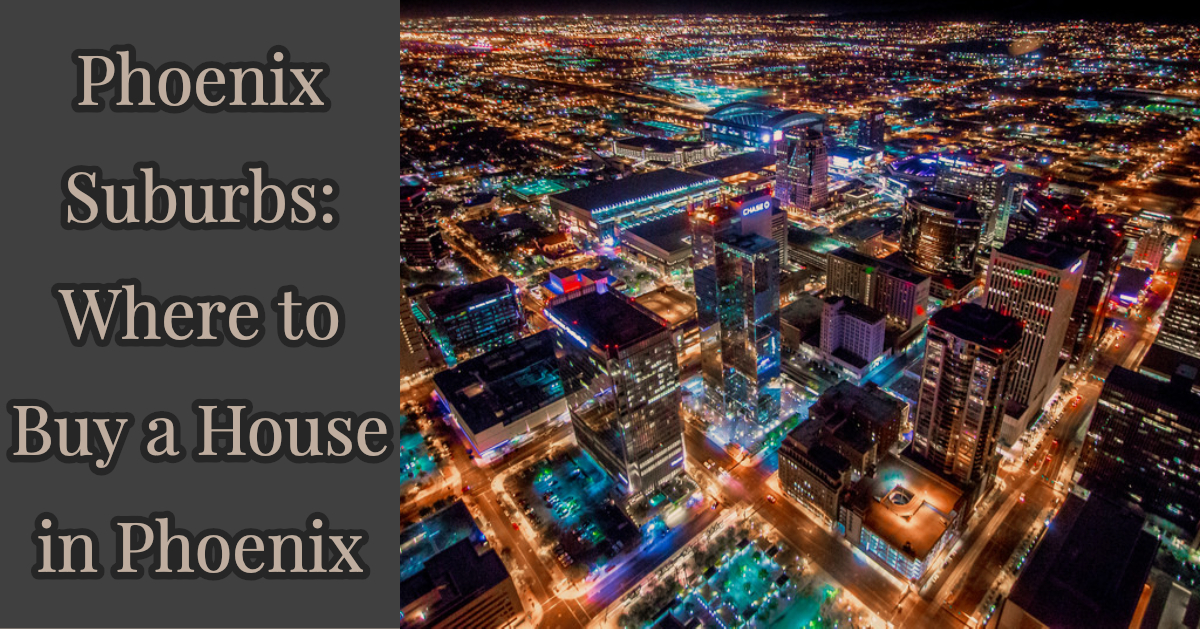 Looking for a new home to buy can be an extensive process. It's important to be aware of the location of a potential new home and what the surroundings are. Everyone's expectations are different, and the suburbs of Phoenix have unique features that appeal to different preferences.
One of the main details people look for when buying a home is the investment and the outcomes of that investment. There's never been a better time to buy your dream home or your first home in the Valley. If you're wondering where to buy a house in Phoenix, check out what each of these suburbs has to offer.
Chandler
Chandler is a suburb just 35 minutes outside of Downtown Phoenix. Chandler is very community-oriented, with family-friendly people and attractions spread throughout.
This Phoenix suburb has beautiful homes to offer. A single-family home with 4. beds, 3 baths, and over 2,500 sq. ft. in Chandler would start in the low $300,000s. If you're looking for something luxurious, this community also offers extravagant multi-million-dollar homes.
Chandler is one of Phoenix's up-and-coming neighborhood. It's the place to be whether you're starting a family or looking to retire. Its prominent location is the perfect distance away from the bustling city and is one of the fastest growing in technology and innovations. Chandler is a very diverse community that offers amazing schools.
Chandler hosts special events and festivals every month throughout the year. There is also a gorgeous downtown area to enjoy an evening walk, a trip to the museum, or dinner on the patio. One of the highlights locals enjoy is the Chandler Center for the Arts Gallery. Chandler is continuously growing and makes for a wonderful place to buy a home in Phoenix.
Gilbert
Gilbert is another small Phoenix suburb that is about 30 minutes east of the Downtown area and about 15 minutes east of Chandler. Gilbert is known for its agriculture roots that are featured in local food scenes like farmers markets. This allows for an eclectic vibe throughout the community.
As Gilbert expands, it's become a popular place for young couples and families. The great nightlife scene is in line with their local wine, craft beer, great food, and bike trails. Recently Gilbert has been voted top 5 "foodie" places throughout the metro Phoenix. So, if you love food, Gilbert might be the place for you to purchase your first home or your dream home.
If you decide to purchase your next home in Gilbert, you'd be making a great investment for you and your family. Gilbert is one of the fastest growing Phoenix neighborhoods and continues to grow rapidly for young families and couples. Single-family homes start as low as $250,000 for those looking for an affordable option. If you're on the hunt for luxury, the neighborhood offers multimillion-dollar custom homes. With a purchase in this city, your investment will go through the roof if Gilbert keeps growing the way it is now. Gilbert is undergoing developments that cover at least 2.1M square feet. If that's not enough to convince you, because the area is newly developed, there is still an opportunity for new build homes!
Central Phoenix
Central Phoenix is going to be on the pricier side when it comes to purchasing your future home. But with that price tag, comes endless perks and attractions. As Central Phoenix continues to grow and develop, the demand for real estate makes for a great investment.
Homes for sale in Central Phoenix can start as low as $195,000 but can climb up quickly when entering the nicer areas Central Phoenix has to offer. Phoenix has a unique historic district in the heart of the city. Here, the Alvarado Historic District features homes from $300,000 to $900,000 that date back to 1927.
Central Phoenix is located with the heart of Downtown Phoenix where you will find the Suns Stadium and the Diamond Backs Stadium. Phoenix is a sports town! Central Phoenix has a lot to offer when it comes to a thriving social life. From First Friday, where local vendors and artists display their unique items, to a nice cup of coffee at LUXE, there are a variety of things to do with families and friends in the area. With Central Phoenix expanding more, restaurants like The Yard are starting to pop up throughout Central Phoenix. Central Phoenix is a great place for young families and couples to buy their first home.
Scottsdale
Scottsdale is also known as the Hollywood of Arizona. This Phoenix suburb makes for the perfect place to retire because of the unlimited access to private country clubs and public golf courses, not to mention the unbeatable shopping. Scottsdale Fashion Square is an ideal indoor mall when you're trying to beat the summer heat. On the other hand, Kierland boasts all the most popular luxury brands and allows shoppers to enjoy the beautiful winter weather in Scottsdale.
Scottsdale has beautiful homes to offer. From condos and townhomes to the most luxurious estates. It's prominent location and amenities makes the neighborhood a little pricier than the other suburbs surrounding Phoenix. Homes start at about $450,000 and can climb high above $10 million.
Paradise Valley
If you are looking to live a luxury lifestyle within the metropolitan area, Paradise Valley is your perfect Phoenix suburb. Downtown Phoenix is just a quick 15-minute drive down the highway and Old Town Scottsdale is even closer. Those lucky enough to call Paradise Valley home get to enjoy the community events, convenient location, and all the local attractions.
Due to its stunning location and exquisite views, it's no secret that homes are in high demand. These homes rose by 3.8 percent in the last year and are predicted to continue to rise. Luxury living is a standard for the neighborhood and homes range from the high $500,000s up to stunning $20-million+ homes.
Outdoor living is a principal in Phoenix due to beautiful year-round weather, so most of the homes offer outdoor living and recreational access. Residents of this suburb enjoy the quiet escape that the location offers, while still having access to all the excitement of Metro Phoenix.
For more on Paradise Valley, view our Neighborhood Highlight!
Peoria
Golf courses, restaurants, and prime real estate are just a few of things Peoria offers its residents. Peoria is the perfect place for retirement because of all the easy access to golf courses, restaurants, and simplicity. Plus, it's one of the most affordable Phoenix suburbs.
Peoria has many types of homes to choose from, including luxury homes with easy golf access. Black Stone Country Club not only has a golf course but also has a children's play place for the grandkids. It also boasts dining and social events and a gorgeous fitness center. The club life at Black Stone Country Club seems to be the perfect fit for the relaxation you worked for prior to retirement.
Homes in Peoria start below $200,000 but they definitely don't leave out the details. As the neighborhood continues to grow, property values will also follow suit. Peoria offers luxury or affordability as naturally as the desert offers sunshine. Find your dream home here!
There are plenty of options throughout Phoenix to choose from when it comes to purchasing your first house, second house, or dream home. Each suburb boasts its own perks and history. Phoenix is a great place to start your family or retire. With great weather the majority of the year and great pricing when it comes to real estate, it just depends on what you and your family are looking for. Contact Messner Homes today for all your Phoenix Real Estate needs!