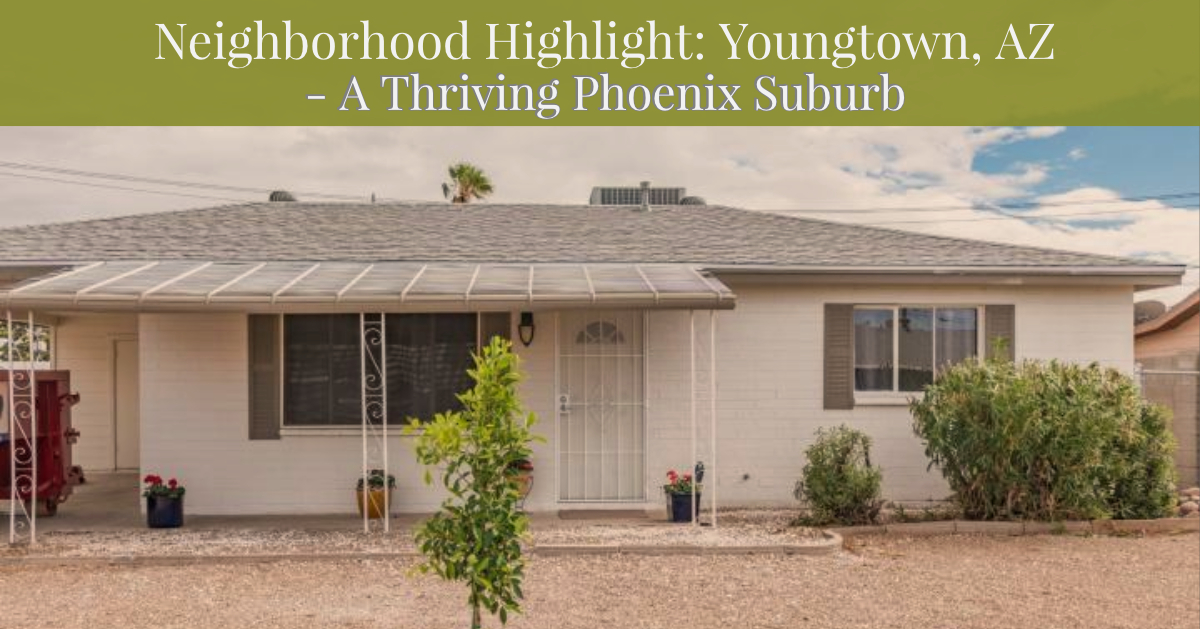 Just west of the popular retirement community of Sun City, a thriving city brought life the northwest Phoenix. Youngtown, AZ is one of the cities the city's most desirable family communities. Nestled between both the Loop 101 and Loop 303, its convenient location makes it accessible from anywhere in the Valley. You might ask yourself, why would I want to live in Youngtown? We've gathered up all the information you need to decide if Youngtown is the right Phoenix suburb for you.
Overview
Phoenix, Arizona has many great retirement communities. The city has year-round comfortable weather, low taxes, inexpensive real estate, and some of the best health care in the country. Sun City is ranked as one of the best places to retire, and just west of the area sits Youngtown.
It's a safe area to live in Phoenix, has well-ranked schools, great golf courses and all the other amenities living in Phoenix has to offer. The city's highway system makes any commute very manageable and the temperate weather means that any car, SUV or truck will drive just fine.
While all these facts make Youngtown a great place to retire, it's also proud to be home to young families. In fact, the population of Youngtown is 80% families, making it a great neighborhood to settle down and start a family.
Real Estate in Youngtown
There are plenty of great homes for sale in Youngtown. In fact, Messner Homes Real Estate recently listed a beautifully remodeled home for sale in Youngtown. Real Estate in Youngtown is very reasonable. There are beautiful single-family homes in the area. It's a great place for a real estate investment as Phoenix continues to grow west.
With the popular area of Sun City growing quickly, there's no doubt that Youngtown will soon grow at the same rate. More people are moving to Phoenix every day – whether it be for school, work, or retirement – so now's the time to buy in Phoenix.
Activities and Attractions
Phoenix and its surrounding areas is well known for its many things to do and Youngtown does not disappoint. Unlike many other major U.S. cities, the Phoenix Metro Area is crawling with attractions outside of Downtown Phoenix.
Youngtown residents can enjoy easy access to the Agua Fria River. The river allows for boating, camping, fishing, tubing, and other year-round activities. The city is also proud of its thriving sense of community. With a strong small-business environment and sustainable programs and services, the city is on track to grow and expand its resources in the coming years.
Some of these resources include the local lake and parks, which residents enjoy both as residential features and recreational activities. In fact, the Town of Youngstown has created a master plan to design a Regional Park that will include plenty of open space, trails, and event space. The plan is expected to be completed by 2025, so not is the time to buy in Youngstown!
Whether you live to work or work to live, Youngstown can manage every lifestyle. Downtown Phoenix is a manageable 30-minute drive away and popular neighborhoods like Paradise Valley and Scottsdale are also accessible on the 101. That said, everything you need is just a few minutes away in the heart of Northwest Phoenix. A shopping center at Peoria Crossings has all the major department stores and some of the Valley's most popular chain retreatants.
Moving can be a hassle. From closing costs to moving and unpacking, there is nothing more dreadful. Take the stress of moving off your shoulders and hire an experienced real estate agent with a great team. Contact the Messner Homes Team today for everything you need to know about homes for sale in Phoenix.