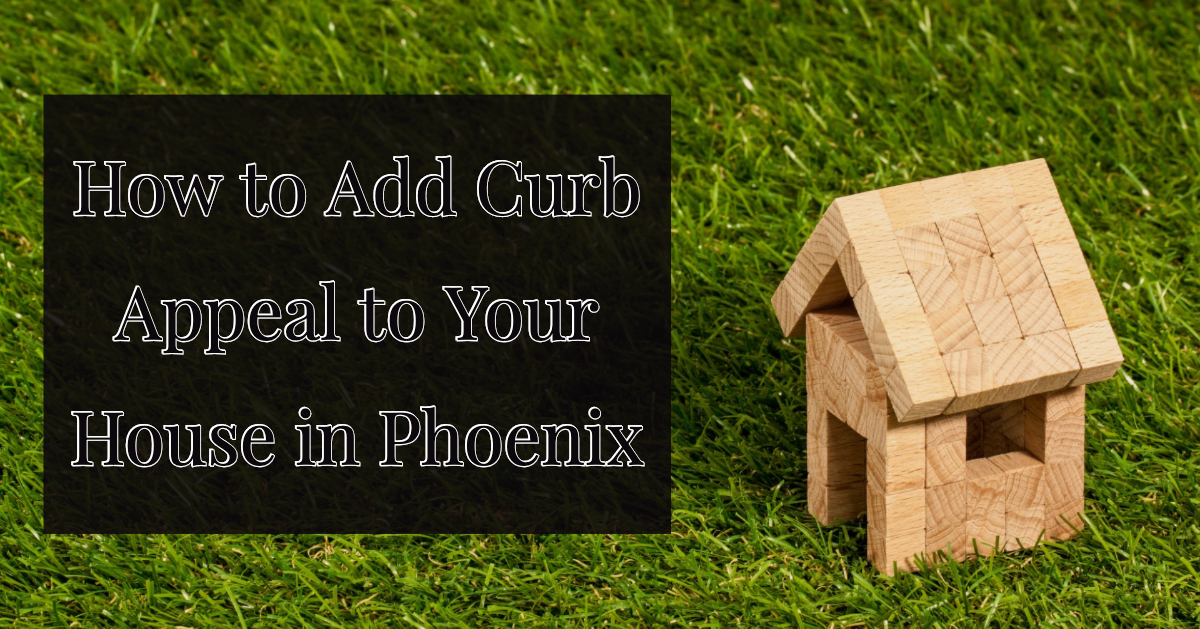 Many homeowners turn to interior improvements to spruce up their living space. While decluttering, cleaning regularly, and making simple updates to the inside of your house is sure to impress those who visit, it's important to remember that the exterior of your house makes the first impression.
This also applies when selling a home. If you are preparing to put your house on the market in Phoenix, keep in mind that an unkempt yard and grungy front porch may be enough to turn away prospective buyers - before they even walk through the door! By sprucing up the exterior of your home, you'll see more traffic at your showings, sell your home faster, and possibly receive higher offers.
Take the following steps to add curb appeal to your home in Phoenix:
1. Clear Out the Junk
If you think those who pass by won't notice your front yard full of children's toys, garden tools, or other discarded items, think again. Prospective home buyers need to be able to imagine themselves living in your home, and the more of your personal items they can view from the street, the harder it is to visualize.
The first step in making your home look more appealing is to clean up. Put away any miscellaneous objects in the yard, wrap up the garden hose, and clear out the driveway. Make your house as visible from the street as possible and remove any items that don't add to the curb appeal of your home. Easily discard any extra junk by hiring a junk removal service in Phoenix.
2. Clean Off the Dust.
All Phoenix residents know that weather in the Valley can be a bit extreme. Storms during the monsoon can take a toll on the way our homes present from the street. All it takes it one haboob to coat your home in a layer of unappealing dust. Not only will this make it appear as though you don't care for your home, but it also adds to the list of things the buyers will need to do once they move in.
Make sure your house looks clean and presentable by renting a power washer and giving the exterior a thorough rinse. This will show off the color of your home and let more light in through the windows.
3. Add a pop of color.
Once you've cleared all the dust from the exterior of your home, it's time to assess the paint. Faded, chipping, or peeling paint will instantly drag down a house's facade. Bring your home back to life by giving it a fresh coat of paint. (If you are part of an association, be sure to have any new colors approved before you begin.)
If you don't think your home needs the entire exterior painted, you can still increase your curb appeal by adding colorful accents. Paint the door in a cheerful shade or add shutters in a complementary color. It's these little details that increase a home's charm and win over prospective buyers.
4. Add Simple Landscaping.
One of the biggest changes homeowners can make to increase their curb appeal is to invest some time and money into the landscaping. A manicured lawn, flower gardens, trees, and stone walkways can take a yard from average to fabulous. However, it might not make sense to invest a lot of money into a home you plan to sell.
For those about to put their homes in the market, there are some inexpensive things you can do that will give your yard a mini-makeover. If you plan to sell in the summer, seed your lawn in the spring to ensure it is thick and green when the house is listed. Just before your home hits the market, spread fresh mulch in the gardens. Add some color to your landscaping with seasonal flowers. Rather than installing window boxes or other permanent fixtures, purchase planters that you can bring with you after your move.
5. Introduce Decor.
Give your home some personality by adding modern decor that will attract buyers. Little touches like a wreath on the front door or a new doormat will make visitors feel right at home. If your house numbers are faded and outdated, swap them out for something new and modern. The same goes for mailboxes that are dented or rusty.
If you don't plan to sell in the near future, consider making some more permanent updates. If your front porch has space, install a swing and decorate with colorful pillows. Add outdoor furniture, rugs, and curtains to make your home feel more welcoming and cozy.
6. Add light.
The key to making a home look appealing after the sun goes down is ensuring it has ample lighting. Assess the lighting options around your front door and invest in new, modern fixtures to replace any that are outdated or worn. If your home has a front path leading to the porch, consider installing solar lights that will welcome visitors to your home at night.
If you are on a tight budget, invest more time and less money by giving existing lighting a makeover. Oftentimes all it takes is a good cleaning and a can of metallic spray paint to give old fixtures a facelift.
---

Don't forget that the way your home presents on the outside may be the key to getting buyers to walk through the front door. With these simple tips, you can help your home stand out above the crowd and maybe even sell for a higher price! That makes moving in Phoenix so much easier. Contact Messner Homes for all your Phoenix Real Estate related.