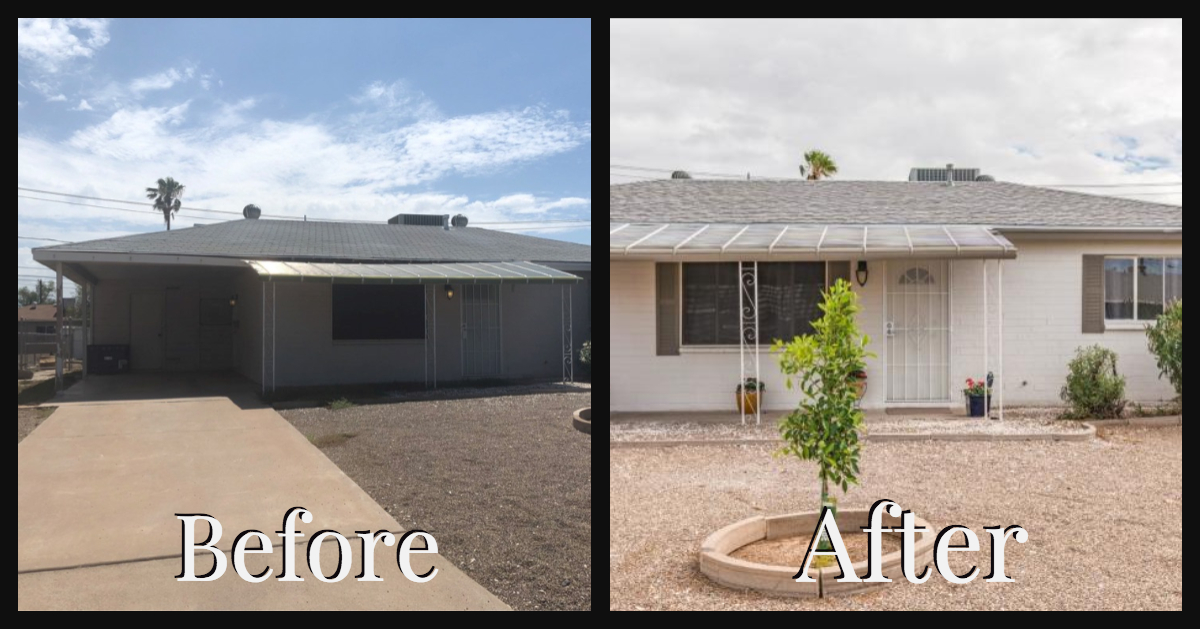 We all agree that sounds of hammers and nails from a neighboring house at 6 a.m. are not the most delightful of morning alarms. That said, when these sounds are coming from the oldest, most worn down home on the block, it should be music to your ears. While you might think that the condition of your home is the most important aspect when assessing home value, there are a lot of other factors that go into figuring out how much your home is worth. One of the biggest factors is your surrounding neighborhood and community. Here's how house flipping adds value to your home and neighborhood.
How House Flipping Adds Value to Your Home and Neighborhood
Let's face it. The most important aspect of home flipping we all want to understand is how it boost the values of your own home. One of the biggest factors that appraisers will look at when assessing your home is the sale price of other homes in the neighborhood. Even if your home is prettiest, most updated house on the street, it won't do much good if all the surrounding homes are falling over. In this instance, curb appeal stretches far beyond your property line. Most home buyers want to live in an up-and-coming neighborhood, if not the most desirable neighborhood in the city.
Real estate investors are your best friends in this situation. They come in, swoop up those run-down homes for a reasonable price and then fix them up. This strategy can quickly turn your neighborhood's value right-side-up. If the value of a neighboring home goes up, chances are that yours will too.
Gentrification for All
This is the turning point of any flipping project. It's the success story that is any real estate investor's dream. The idea of gentrification is to invest in homes in a neighborhood that is clearly in need of a refresh. After an entire neighborhood is bought up and investors make updates and improvements, an "eclectic" neighborhood is born. Not only does the city appreciate this strategy, but surrounding neighborhoods and homeowners should as well.
Gentrification in Phoenix has been on the rise since 2000. In fact, home values in one area of Downtown Phoenix rose 72-percent. This has allowed major economic growth in Phoenix, which increases home values for homeowners across Maricopa Country. In this specific Downtown Phoenix area, vacant hotels have been turned into luxury lofts and in 2006, Arizona State University opened an entirely new campus, which 12,000 students now populate. This area is now one of the most desirable in the city and proudly boasts the "eclectic" vibe.
While this level of gentrification might not be the case for your quaint, quiet neighborhood in Phoenix, the idea of house flipping can be appreciated even on a much smaller scale. The flip of an old 1950s house that has been vacant for years can do a lot of good for your home value.
What's the Risk?
As a homeowner living in a neighborhood of a house being flipped, there's really no risk to you. A vacant house retracts value from a neighborhood, as does an unattractive house. House flipping solves both of these issues.
That said, we have all heard nightmare stories of a house flip gone wrong. An investor swooped up a house without much thought into the terrible inspection and everything went wrong. Most of the risk here bears down onto the investor's shoulders. Unexpected expenses that stretch beyond ordinary home repairs can turn an investment upside-down very quickly. Unforeseen expenses like a faulty foundation or moldy walls can scare off an amateur flipper. If an inexperienced flipper was unprepared for a budget stretch, they might abandon the project altogether. This could lead to – yet again – a vacant house in your neighborhood that's in desperate need of repair.
As an experienced real estate investor, house flipper, and Phoenix real estate agent, I can say first-hand that not all projects go as planned. I've taken on houses that were victim to hoarding and much worse. That said, it's my goal to increase the value of homes in surrounding areas. Whether my client is on the hunt for a -flip-worthy home or looking to invest in an up-and-coming neighborhood, I've developed a keen eye for these investments.
In fact, my most recent listing is a project I flipped myself. There's a fine line in the world of house flipping between making necessary changes and taking shortcuts. Because I invest in these homes, I treat them as my own. I wouldn't flip and list a home that I wouldn't buy myself. Here are some before and after photos of my most recent home listing. If you would like to learn more about the benefits of house flipping in Phoenix real estate, contact me today!