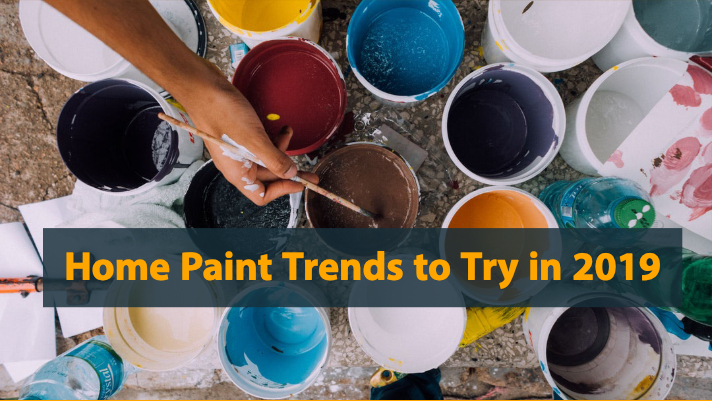 When choosing how to decorate your home, you can use paint trends to guide your decisions. Interior designers and homebuilders stay up on the trends, so why shouldn't you? Take a look at what home paint trends you can expect to pop up in 2019 and let it inspire your home decor!
Living coral is the Pantone color of the year
Pantone - the company that standardizes colors for packaging - declared living coral the color of the year for 2019. According to Pantone, they chose living coral because it is so rich, warm and lifelike: "In reaction to the onslaught of digital technology and social media increasingly embedding into daily life, we are seeking authentic and immersive experiences that enable connection and intimacy."
Living coral, which is somewhere between orange and pink, brings to mind the vivid sights from under the sea. Use it to liven up a powder room, or if you're bold, a bedroom wall.
Soft neutrals like clay, hazelnut, and mushroom
Much like living coral, many of the year's paint trends take cues from nature. Clay is a warmer, darker neutral, while mushroom has a touch of gold in it. Both colors make great backgrounds in a warm living room or a cozy bedroom. Hazelnut's lighter hue gives it versatility. It can be paired with colors from a warm or cool palette.
Go beyond gray with shades of lilac and sage
Gray will always be a popular color because of how well it pairs with so many other colors, but there truly are several shades of gray for you to decide from. This year, look for grays with tones of lilac or sage to liven up this timeless neutral. You can then choose accent pieces that will bring out these colors.
Using color on cabinetry and shelving
There's more than one way to introduce color to a room. Expect to see popular colors used in cabinetry, shelving, and furniture. Beautifully stained wood always has its place, but it's not your only option when deciding how to decorate a kitchen, living room or office. Colors add something unexpected to standard furniture.
Greens that come from nature — forest and reflecting water
If you haven't figured it out yet, nature is the place to start when looking to paint your home in 2019. If green is your color, you're in luck. Think of the greens you see walking through a forest, or reflected in a pool of water. These colors look fantastic in a study or kitchen - rooms that can use the energy the color green inspires.
Muted pastels for a calm vibe
Pink isn't the only pastel out there, so try out light green, beige, or blue for a paint color. Pair it with a shabby chic decor, or go with gold and white accents. Its versatility means you can't go wrong with a muted pastel.
Stone white, especially with texture
White continues to be a classic color because it really does go with everything, but don't assume white is boring. White can accent textures that colors will hide. White over bricks, wainscoting, and medallions allows for the details in these embellishments to shine. Try using it next to a darker tone to achieve color balance.
Icy blues with lavender tones
Blue is a classic color for a reason. It looks good, and it's one you should feel comfortable turning to this year. Go with an icy blue with a touch of lavender for a wall color. Some might call it periwinkle. It can be paired with orange accents for a pretty pop. Try it out next to charcoal or pewter for a more subtle pairing.
You can have a yellow room
Yellow can invoke thoughts of sunshine and flowers, but if you go wrong with yellow, the glare just may give you a headache. Never fear, as 2019's paint trends include mustard and marigold, so it's easy to find the right hue of yellow for your house. Use it in your kitchen, or as a dramatic accent wall for your bedroom.
Black isn't back — it's been there for years
It's intimidating to paint a wall black, but don't let it scare you. The color remains trendy because it makes a dramatic statement, and can add a touch of glamour to whatever room you add it to. Try it as the background of a packed gallery wall, or in a bathroom for a timeless look. Keep in mind though, that darker colors tend to make spaces appear smaller.
Use these trends as a guide to help you decide what to paint on your walls, especially if you plan on selling your home in Phoenix soon and you want your home to be on-trend. These tips for home paint trends are just a starting point. Use your own taste to figure out what you want! Contact Messner Homes for any advice you might need on Phoenix real estate.