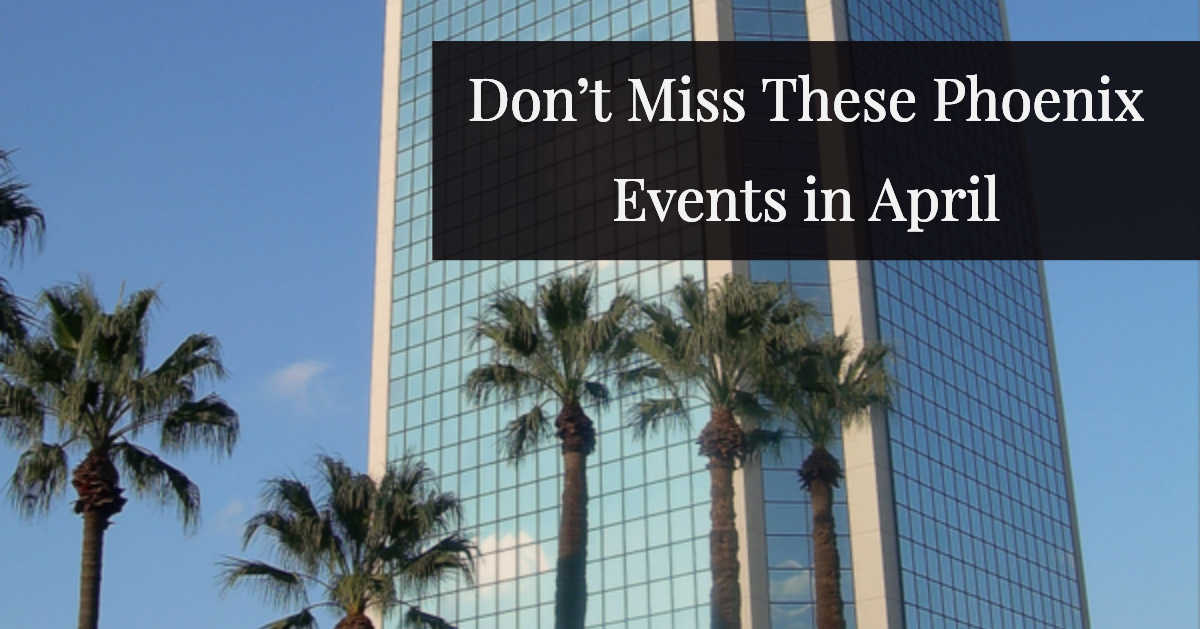 Spring is in the air. While winter weather in Phoenix definitely doesn't require a snow shovel, spring weather is what residents dream of. At the very least, you can put away your jackets and jeans and get ready for your favorite spring and summer activities.
There's plenty to do in Phoenix year-round but if you're enjoying your spring break in the sunniest city in the nation, there are endless activities and attractions.
Don't miss these Phoenix events in April:
Wet Electric Music Festival
Splash around at the world's biggest pool party known as the Wet Electric Music Festival at the Big Surf Waterpark in Tempe on April 27. The only thing that can really make an waterpark better is to add some danceable electronica music to it! Get your dancing shoes and bathing suit ready for this wild time.
Arizona Tiki Oasis
From April 12–14, you can enjoy the Arizona Tiki Oasis at the Hotel Valley Ho in Scottsdale. At this exciting event, you can celebrate life like you're living on the Big Island in the middle of the desert. Sip tropical cocktails while attending poolside parties and luaus or head to the variety of art shows and seminars available. There's something for everyone at this unique event.
Great Egg Hunt and Family Fair
If you find yourself in the Scottsdale area on Easter with kids in tow, check out the Great Egg Hunt and Family Fair. The egg hunt and other activities will go on from 10 a.m. to 4 p.m. and has grand prizes available, which range from toys to amusement park tickets. It's the perfect and unique way to get in the holiday spirit.
Not to mention, this family-friendly event is conveniently located in the OdySea in the Desert. After all these great activities, take the trip into the OdySea aquarium to see all the complex has to offer.
Run the Runway
For runners both aspiring and seasoned pros, check out the seventh annual Run the Runway at the Scottsdale Airport. Not only will you be able to take in the gorgeous Scottsdale sights but your donation when joining will benefit Playworks Arizona, which ensures safe and inclusive playtime for 55,000 students on a daily basis. The event starts at 6 a.m. on April 6th.
Brunch-ish
Breakfast and brunch fans, rejoice. Brunch-ish is back in Downtown Phoenix serving up bottomless brunch with a sweet hip-hop and R&B accompaniment. While brunch ends at 2 p.m. and the mimosas end at 3 p.m., the party doesn't stop for quite a while afterward. Bring your appetites and your dancing shoes.
Smino – Hoopti Tour
Head to the Crescent Ballroom in Phoenix for the Smino – Hoopti Tour, presented by Zero Fatigue and OTW. You can have a meet and greet with Smino while also getting swag, like a poster and Hoopti car freshener. Doors open at 7 p.m. on April 22, and the show is at 8.
Wizards and Witches Beer Festival
If you're a fan of Harry Potter and also love to sample different types of beers, then you're going to love the Wizards and Witches Beer Festival at the Monarch Theatre in Phoenix on April 20. You'll have your choice of over 20 winter, pumpkin, and other holiday-themed brews. Plus, there will be plenty of magic in the air to also entice your spirits.
The Office Trivia Bar Crawl
Think you know The Office? Test your skills in The Office Trivia Bar Crawl in Tempe on April 20 where you can hit multiple bars (all bars still TBD) in the area while proving your expertise. While it may sound easy, especially for fans who have binged the series again and again, keep in mind that trivia's tend to find the most minute details to ask about. So study up!
Arizona Craft Beer Festival
April 20 starting at 5 p.m. marks the return of the Arizona Craft Beer Festival at the Westgate Entertainment District in Phoenix. Beer lovers across the state will travel far and wide to attend this festival where you'll be able to experience tasty craft brews that you might never have heard of. There will also be food and live entertainment available so you can really make a day of it.
Hyukoh
If you're interested in experiencing new music, check out Hyukoh at Valley Bar in Phoenix on April 13. Tickets are only $25, and anyone over the age of 16 is permitted to attend the concert. Get down and dance the night away!
Phoenix 5k Happy Hour Run
For those who want to run at 5k but aren't looking to train (too hard) for it, then you might enjoy the Phoenix 5k Happy Hour Run at Camelback Ranch Park on April 6. It's a leisurely fun run with a focus on wine, beer, and margaritas, so if that sounds like the only thing that will make you run, then you'll likely be amongst friends here!
Whether you want to dance all night, run around with friends, or experience new foods and drinks, then you'll be sure to find something fun to do in the Phoenix area this April. While we know there's probably some spring cleaning to take care of (window cleaning and power washing) ensure you make time for these April events in Phoenix.