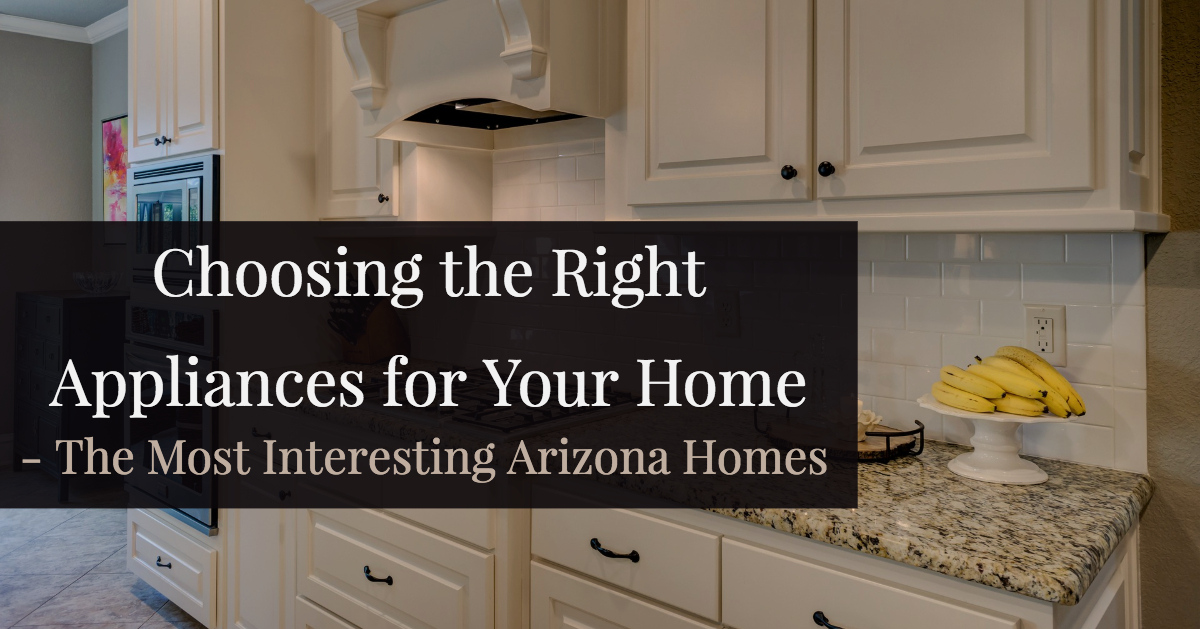 Selecting new appliances for your home can be a stressful task. It is very easy to be overwhelmed with information and prices when you're in the midst of the home-buying process. Choosing new home appliances may not be the most fun or exciting task in the world, but it is something that you should spend a good amount of time researching before making a decision.
The right appliances will make your home life easier and more convenient, each of which will contribute to lower stress levels for you and your family. Choosing the appropriate appliance can also help save money, as most newer models are made to save on costs and energy. Here are a few things to evaluate before purchasing that can help ensure that you choose the proper appliances for your home.
Size
Make sure to consider the size and capability of an appliance before purchase. A family of four has much different needs than an individual living alone in a small apartment. This can help to avoid wasting money energy on an appliance that could be considered overkill for your personal needs.
The size of new appliances is important to consider because many homes feature different kitchen designs. Space for the dishwasher, oven and fridge are often predetermined so it's important to measure before choosing a new appliance. If your fridge will have one side against a wall, make sure to get one with doors that can still swing open all the way.
Energy Efficiency
Though most appliances on the market in 2018 claim some level of energy efficiency, it is important to do your research and look at the actual numbers that vary from model to model. One appliance may have a higher initial cost, but could save much more in the long term. Spend some time comparing different models to find what fits your needs to help save you money over the years. This is an important consideration especially for homes in Phoenix because energy bills tend to sky rocket during the summer months.
Cost
Possibly the biggest hindrance in purchasing new appliances for many is the cost. Though purchasing a new appliance of any type does not necessarily mean breaking the bank, it typically eats a large hole in your wallet at the very least. Pay attention to sales and rebate programs to ensure your maximum cost savings at the time of purchase.
Even after evaluating each of these three characteristics, there are still quite a few details to research and decide on before making a purchase. Some smaller appliances, such as a microwave or stove, are easier decisions. Other appliances, like hot water heaters can be a bit more tedious. Here are a few ways to help you make a decision on a bigger ticket item using hot water heaters as an example.
Hot water heaters are one of the most complex appliance purchases one can make. If chosen correctly, a hot water should have a lifespan of around 10 years. It is a very important part of everyday life and can cause major issues within your household if it fails for any reason.
In addition to evaluating the standard points of size, efficiency and cost, it is important to look at a few other key things when purchasing a water heater, starting with fuel type. It is crucial to know what is the best way to fuel your water heater, be it some sort of gas or electric, before purchase. This may lead to a higher upfront cost, but could save you $100s in the long run. Compare any available fuel options (these can vary by region) to ensure your maximum savings.
Each different type of major appliance will likely have a similar major characteristic to evaluate. This list is a general guideline for helping you to begin your research prior to purchase. Considering the reliability and repair costs of different manufacturers is another key point to consider. How close is the nearest licensed repairman? Spending lots of time doing research may be tedious, but is very worth it in the long run. Appliances are a big purchase so it is important to take as many steps as you can to save a major headache in the future.
Are you in need of advice or would like to make updates before selling your home in Phoenix? As an experienced Phoenix real estate agent, I can help you with all these big decisions and get your home sold! Contact me today.