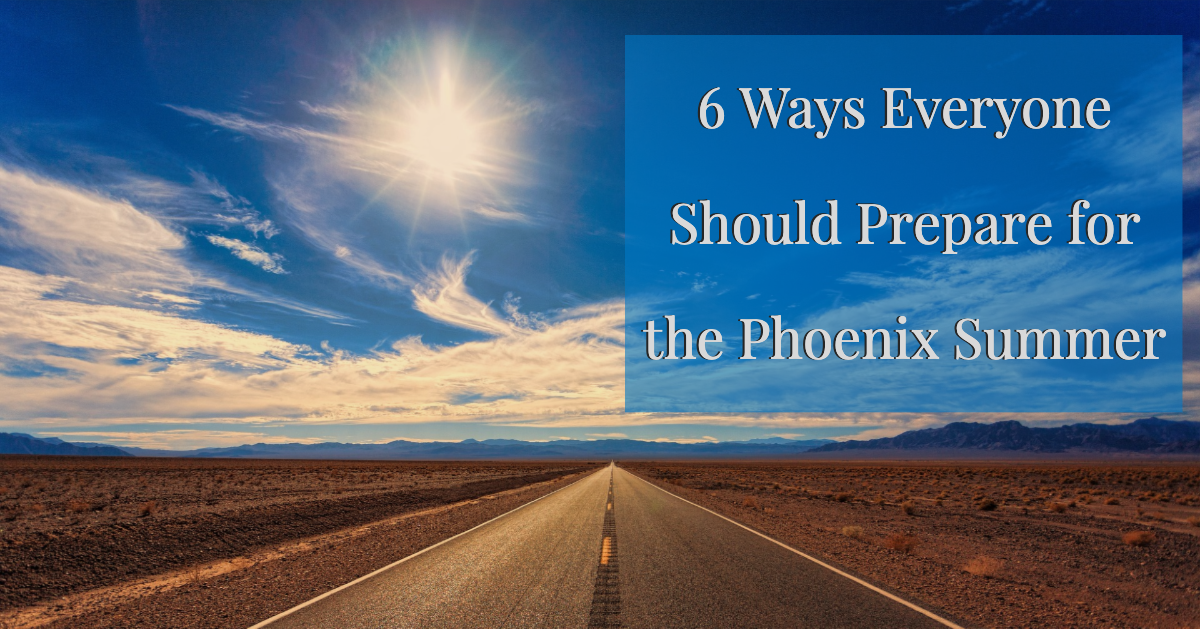 The weather in Phoenix is notoriously hot during the summer. With abnormally cool weather this spring, it's easy to forget that the summer heat will sneak up on Valley residents in no time. Now's the time to get your home, children, and pets ready for the upcoming weather. Here are 6 ways to prepare for summer in Phoenix.
Get Your Air Conditioning Unit Checked
You've probably heard this time and time again, but it's no joke when your air conditioner fails in mid-August. After 5-6 years, air conditioning units become less reliable, especially after a few summer seasons in Phoenix. Many air conditioning companies in Phoenix offer seasonal specials, where they'll come and check out your unit for free or at a very low cost (they are hoping your unit needs to be repaired).
If the checkup is all clear, at least change your air filter. During the monsoon, strong winds and rain often tear down trees that hit power lines. This can easily cause a power outage, which is undoubtedly out of your hands. But with these storms, comes a significant amount of dust, so you'll want a fresh filter installed every month or so.
Stock up on Emergency Supplies
Because the power can occasionally go out due to monsoon storms, it's important to have an emergency kit on hand. Your emergency supply kit should include 3 days' worth of:
Gallon jugs of water
Non-perishable food items
Pet food
Flashlights with extra batteries
First Aid Kit
Plus all of these extra items
Buy Insulated Water Bottles for the Family
It's easy to just buy cases of bottled water to keep cold in the fridge. That said, it's not an economical or environmentally-friendly solution to hydrating during the summer. When it's hot out, you need to drink plenty of water to stay hydrated. Rather than investing in case after case of water bottles, invest one time in an insulated water bottle for each family member.
Not only do these bottles prevent unnecessary waste, but they also keep water cold and fresh on even the hottest days. It's not healthy to drink out of a plastic water bottle that's been sitting in a hot car. When you do this, bacteria are able to grow inside your bottle. Plus, there have been some instances where water bottles have gotten hot enough to start a fire in your car.
Set Your Alarm Earlier
With summer comes inevitable yard work. But with the sweltering heat and sun, it's not possible to mow the lawn on a summer afternoon like you can in some other warm climate. Here in Phoenix, it's best to set your alarm in line with sunrise and get all your outdoor chores out of the way. It's often still pretty hot at 5 a.m. during July and August, but the sun isn't as fierce at these times.
Many Phoenix residents also know that one of the best advantages of summer is the inexpensive tee times on one of the Valley's many golf courses. Here are the best golf courses to play during the summer in Phoenix.
Grab an Outdoor Pet Camera
If your pets are able to get outside when you're not home, it's important to be able to ensure their safety during the summer months. If you have a dog door installed, set up an outdoor pet camera so that you can view the door and the backyard space where your pets like to relax.
This provides security for a couple of things. The first is that you can ensure that your pets don't bake themselves in the heat. Some dogs and cats love a good sunbake, but if they don't know when to stop, they could quickly become overheated. The second reason is that you can keep an eye on your dog door so that any unwelcome visitors (like neighborhood cats) don't get inside your home.
Stay Informed About the Forecast
It's easy to overlook this important preparation tip in Phoenix. Often times, residents go through summer with an understanding that most days will be hot and sunny. No need to look at the daily forecast, right? Not exactly.
Some days are significantly hotter than others and when you're talking about heat in the triple digits, a few degrees make a big difference. Stay informed and prepared for extreme heat warnings and severe thunderstorms. Both of these weather warnings indicate a need for extra precaution and consideration for your day. You can subscribe to get google weather updates on your phone, but you should also keep an eye on the National Weather Service alerts.
When it comes down to it, Summer in Phoenix is hot. That said, Phoenix residents make the most of this season by finding plenty of warm-weather activities, exploring northern Arizona cities, and keeping their children and pets safe. Are you curious to learn more about the Valley? Contact our local experts for all of your Phoenix real estate needs!