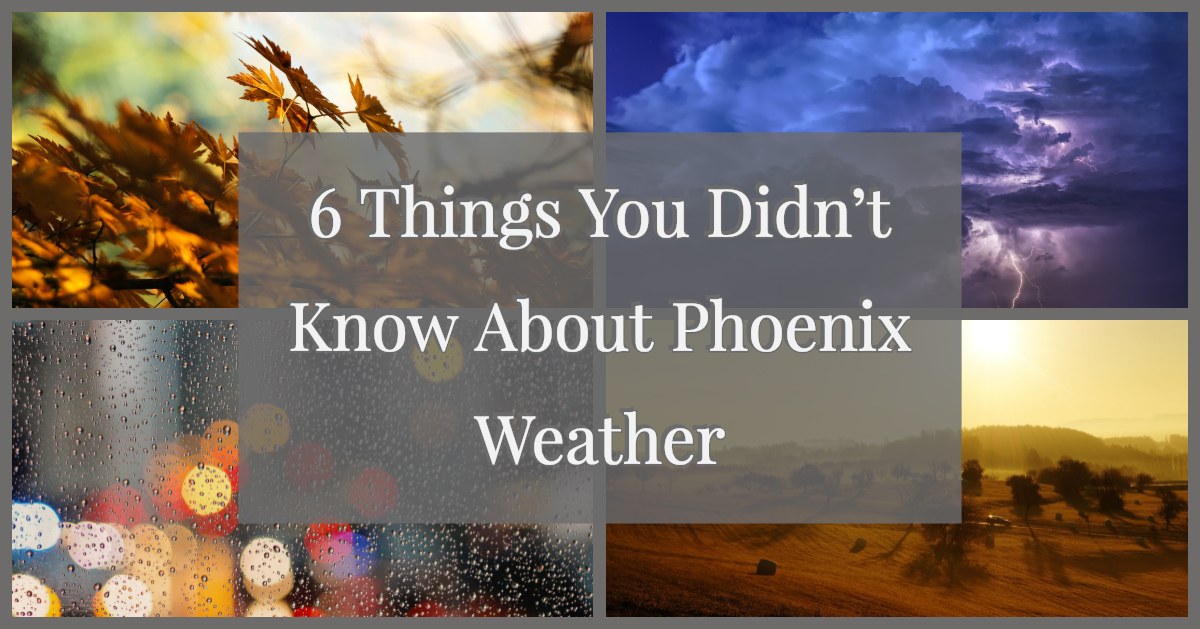 Phoenix is well known for hot summers and beautiful winters. That said, there's a lot more to the Valley climate than meets the eye. Here are 6 things you should know about the weather in Phoenix.
1. It's not unbearably hot all summer long.
The summer months in Phoenix are notoriously hot. That statement is true, but it's definitely not as cut and dry as it might sound. In fact, there are usually only about two or three weeks during the summer that reach into the excessive heat warnings. These warnings mean one of two things. Either the temperature will be at least 105 °F for 3 hours per day, two days in a row, or temperatures will reach or exceed an uncomfortable (and deadly) 115 °F or any period of time.
We know this sounds unbearable, and for those few weeks, it feels like it might be. But as the nation's 5th largest city, 4.5 million Phoenicians have definitely found the cup half full.
2. It's not a dry heat.
By rule of thumb, Phoenix is a sauna from July through September and sometimes into October. We know you must be asking yourself, it's a dry heat though, right? Not exactly. The monsoon strikes Phoenix for much of the summer season. With these storms come strong winds, loads of rain, and mile-high dust storms the locals call "haboobs".
These storms bring welcome clouds and cooler temperatures to the otherwise scorching Valley. They are also notorious for large power outages, dangerous driving conditions, and an entourage of fallen trees. As long as you're informed about the importance of heat safety and the dangers of monsoon storms, navigating the summer weather in Phoenix should be a breeze.
3. Cooler evenings make all the difference.
Most Phoenicians have no trouble bearing the 100+ degree weather during the summer time until it stops cooling off when the sun goes down. It's one thing to be hot during the day, but no one wants it to be 105 degrees at 6 a.m. when they are getting ready for work.
These cooler evenings usually start to fall off in late June and come back sometime in September. That said, there might be some abnormalities in those times, where it's hotter or colder depending on the storms.
4. Hotter weather means more things to do.
This might sound backward, but believe it or not, there is an abundance of things to do during summer time in Phoenix. Why you might ask? There is one main factor the affects this reality: Snowbirds aren't around in the summer.
Without the part-time residents to help fuel the economy, there are more opportunities for full-time residents. Many local attractions, like the OdySea Aquarium, are less crowded and even offer discounted rates. Similarly, local golf courses offer extremely steep discounts for tee-times. Even some exclusive, private country club open their doors for public-play days. Check out the best golf courses to play in Phoenix during the summer!
5. We have rainy and cold days.
Aside from the annual monsoon, Phoenix does have some rainy days. It doesn't usually rain a significant amount, but the clouds will roll in for a few days at a time. This usually traps in the humidity, something Phoenicians are surprisingly used to.
Along with the rain, Phoenix also experiences cold weather. In fact, the average low temperature in the Valley rests in the high 30s during December and January. It's not unusual to wake up to a bit of frost in these months. As a Phoenix resident, I've even seen snow in the Valley (although it's very rare.)
6. We have even more sun.
This probably won't surprise you, but Phoenix gets an average of 299 sunny days per year. That's above average for the nation. Keep in mind that many of these sunny days are in the beautiful winter months, where temperatures hang around the high 60s and low 70s.
---
Those of us who are lucky enough to live in Phoenix, know that this city has a lot more to offer than summer heat. With endless activities and attractions, there is no doubt that you'll find that perfect reason to buy a home in Phoenix. Contact me and my team of experts today to learn more about finding your dream home!