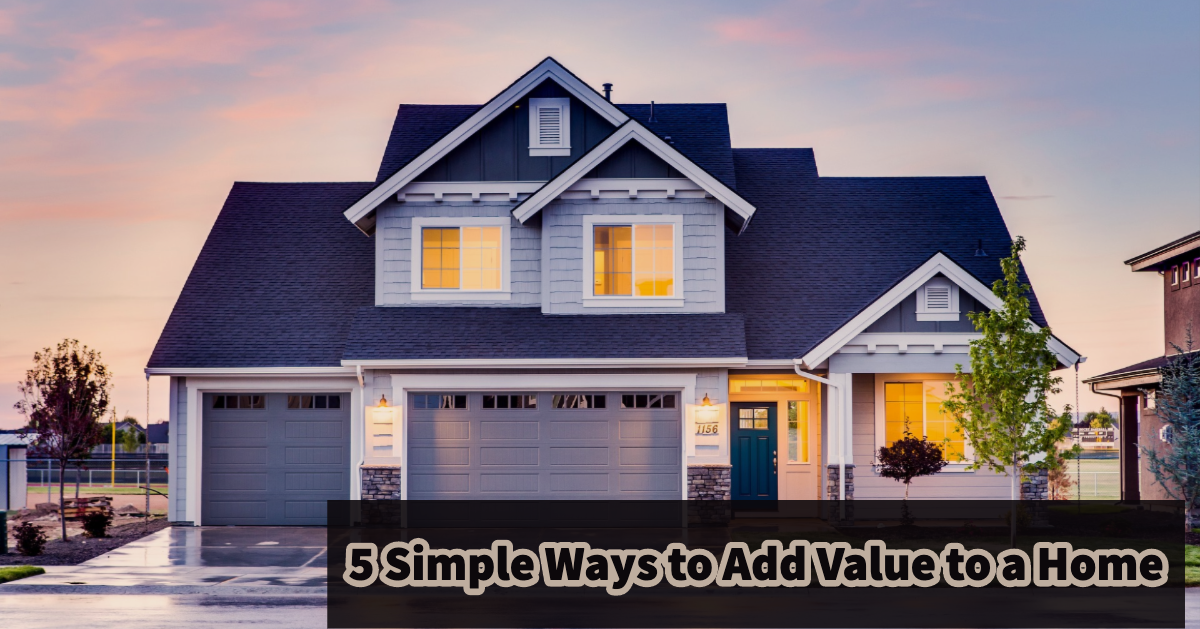 Adding value to your home can feel daunting when you consider the finances, effort, time, organization, and research that goes into making it a reality.
However, there are plenty of ways to upgrade your abode while keeping things simple. Repainting the main rooms of the house makes things look clean and well kept, and a well-groomed lawn seems tidy and put together. Changing just minor details in your home can make a huge difference to the light and airy feel that you want to upgrade to. The "overwhelming" task of home improvement is made much simpler if you break it into smaller and more manageable pieces. Check out these simple ways to add value to your home:
1. Add Fresh Paint
Painting can add value to your home in more ways than one, and it's definitely a simple task. For example, painting your inner doors and cabinets a lighter color, such as beige, cream, or white, lightens up the entire space. These changes might be minor, but the outcome can be an efficient way of opening up a room and filling it with light.
It's not even necessary to change your interior or exterior home paint colors. Just adding a fresh coat of the same paint revitalizes the depth and brightness of the color itself as well as the atmosphere in the room.
When repainting a different color, think about the atmosphere that you desire for your space. Many times, a lighter neutral or plain color makes space appear larger. These lighter colors can also allow you to include art on the walls without risking an overload of color.
Pro tip: Always choose white paint for your baseboards. It allows for a fresh, clean feeling and gives the illusion of a bigger space.
2. Work on Simple Landscaping
Engrossing yourself in your garden can add value, not only to your property but also to the environment and habitats that are in your surrounding area. Having some foliage and more mature plants provide some depth to your yard and space for animals to nest, while also adding significant monetary value to your property.
When considering a landscaping plan, make sure you keep in mind the outcome and the goal that you want to play out. The more thoughtful and complete the landscaping job, the more coherent it appears and draws buyers in.
A landscaping project is possible, even on a budget. Simple gardening can be done without the need for a specialized landscaper. On top of that, planting annuals makes your garden bloom every year with very little maintenance.
3. Upgrade Your Appliances
Upgrading appliances can seem pricey in the short term, but in the long term, it could actually save you money and add significant value to your property. In addition to upgrading appliances such as the refrigerator, oven, and dishwasher, consider smaller upgrades, like a new kitchen sink.
While this project is likely expensive, there are plenty of financing options available. If you can add a few thousand dollars in value, it's probably worth the extra expense.
4. Add Unique, Customized Details
People enjoy stories, art, and culture. Filling your walls with authentic pieces of art over conventional prints will add value on a personal and financial level. Items like custom fireplaces, antique corbels, and custom hoods are all great ways to add value to a home.
You can also accent your home with unique pieces that tell a great story. Obviously, you have to be prepared to sell these items with the home to reap the rewards, but that just means another opportunity to make your new home unique as well!
5. Declutter for Simplicity
Keeping a living space free of clutter can make any place feel larger and more inviting. So, if your budget is tight or you are overwhelmed where you should start in order to up the value of your home, a great place to start is with what you already have.
Make sure that the items that you are storing are meaningful, useful, and purposeful for you. Consider making your furniture work for you both functionally and stylistically. Too often, items such as laundry baskets or storage furniture are unappealing when they don't have to be. See if you can double up on both aesthetics and functionality with your furniture.
Whether you want simple touches with subtle upgrades or complex changes with drastic results, there are simple ways to add value to your home and get a better return on investment. If you're looking to prepare your home to sell, make sure you get in touch with the best real estate agent in Phoenix!